China's economy remains in the doldrums. Growth bumped up slightly in the second quarter according to our broad proxy (despite officially reported growth being down); this was probably spurred by the rebound in credit growth in the first quarter. However, credit growth stalled out in the second quarter, and we believe it will continue to do so, signaling flat economic growth for the rest of this year. Meanwhile, the trade war impact looms, with the average U.S. tariff rate on China set to surge to 17.5% pending the September implementation of the recently ordered tariffs on all of the remaining untargeted imports, sending China's currency into steep depreciation so far in August.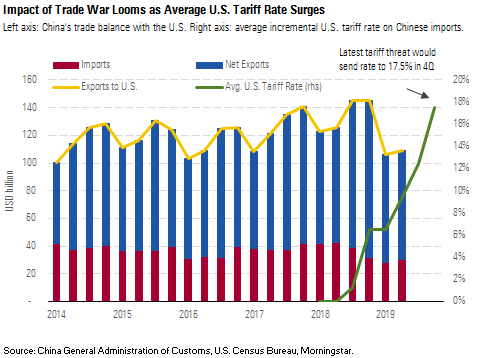 Growth May Have Recovered Slightly in 2Q
China's official real GDP growth fell to 6.2% in the second quarter from 6.4%. However, our alternative broad proxy actually increased to a 5.8% growth rate after hovering around 5.4%-5.6% in the prior three quarters. The timing of a second-quarter growth rebound is logical--credit growth began increasing in January from trough levels, and economic growth typically follows credit with a one- to two-quarter lag. We think the official GDP figures have missed both the timing and the magnitude of China's slowdown. We think that growth began slowing at the end of 2017 following a credit slowdown. Quite plausibly, China deferred recognition of its economic slowdown until the end of 2018 in order to use the U.S.-China trade war as a scapegoat for slower growth.